archive
Purchase
A commission for Prescot Museum to produce a multi-media installation in response to the museum collection.
Project funds were used to purchase a range of products from shops within the town up to a maximum spend of £5 per item. The purchases were then documented and the resulting visual inventory exhibited alongside video portraits of the shopkeepers concerned and light boxes containing transparencies of items from the museum archive.
The visual elements were accompanied by a audio track comprised of a reading of contemporary shop names and addresses by local residents Harry Glover (odd) and Pamela Barron (even).
Exhibited at Huyton Gallery, Merseyside, May 2000.
Archive material courtesy of Prescot Museum.
Artwork / Installation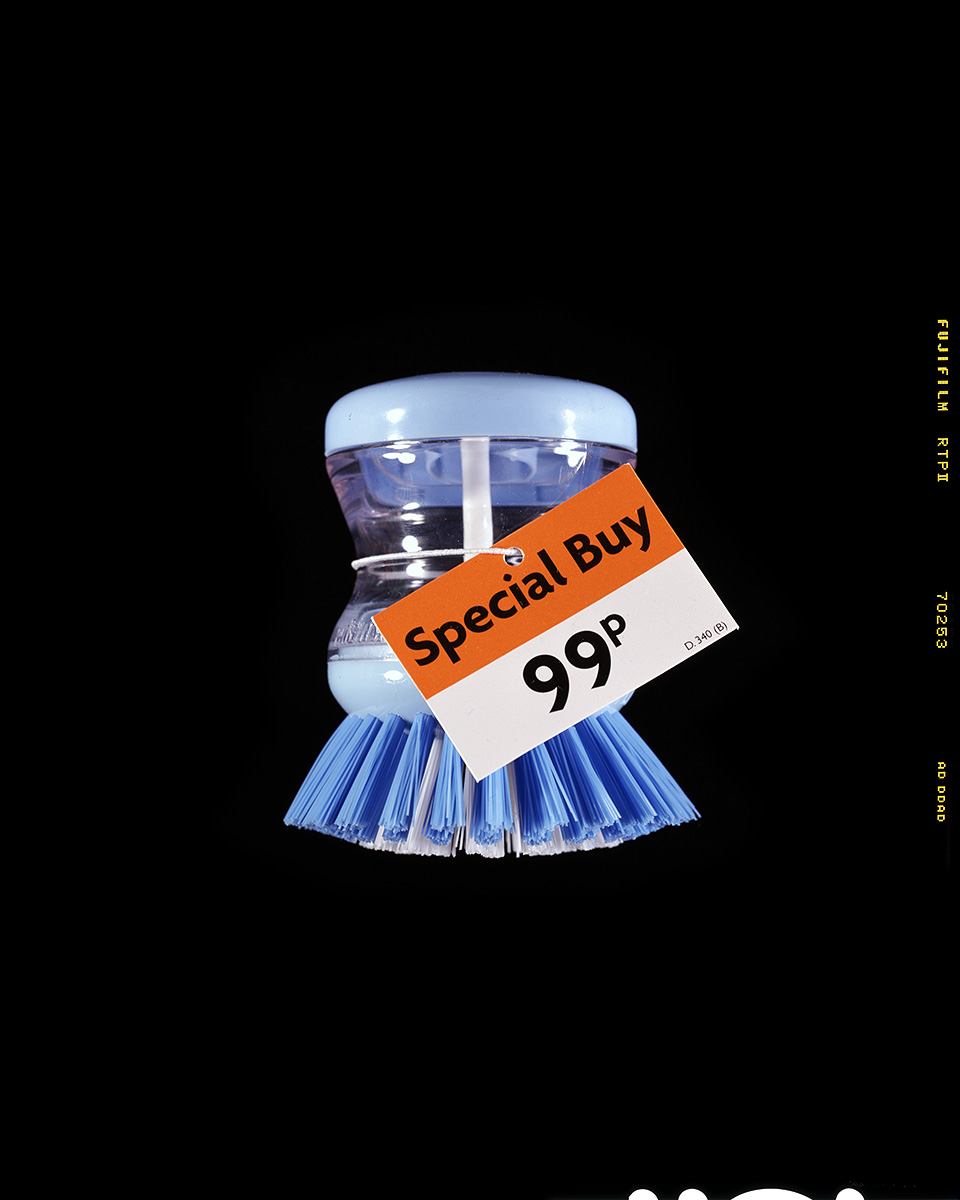 Pan Brush, £ 0.99, Woolworths, Origin: Unknown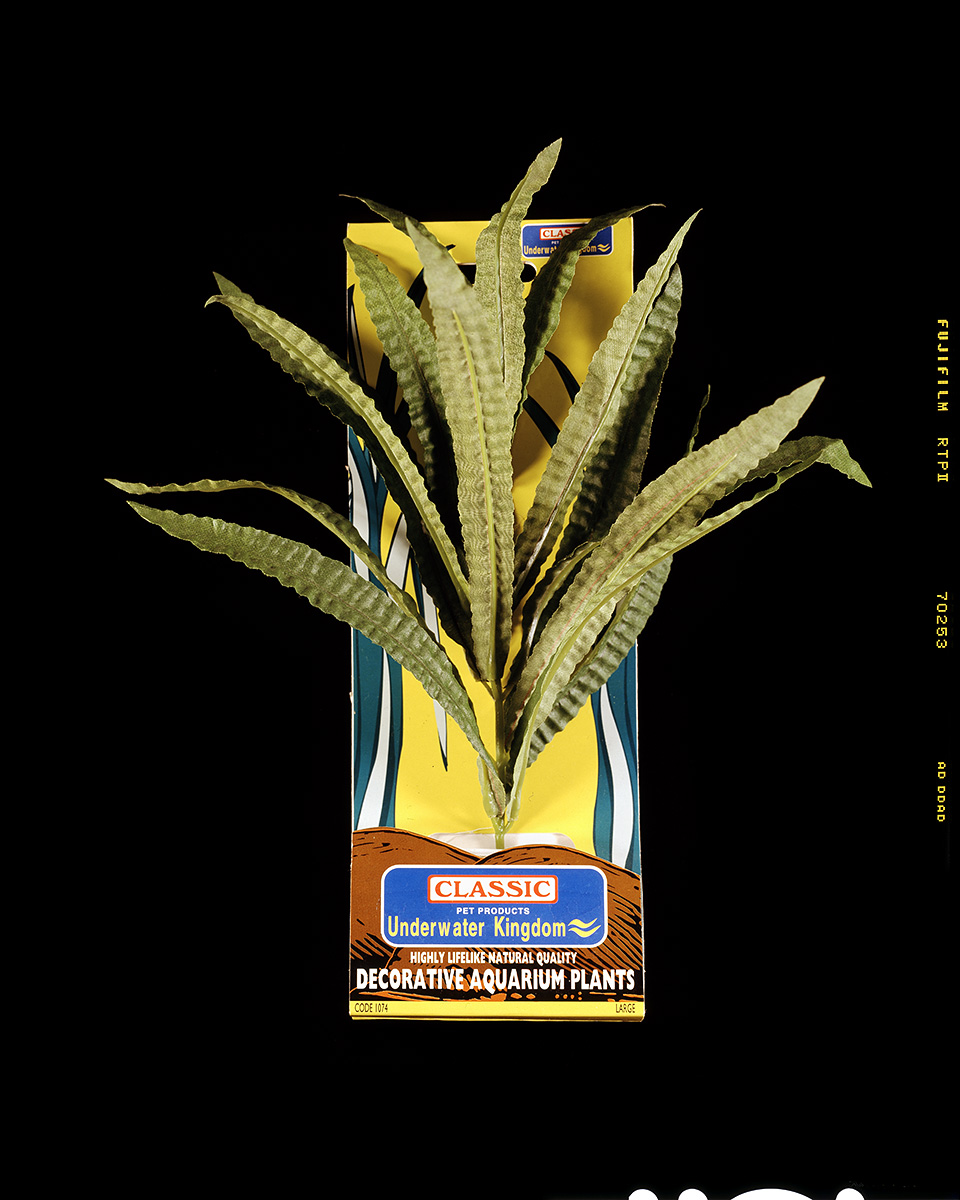 Decorative Aquarium Plant, £ 3.99, Atlantis Waterworld and Pet Centre, Origin: China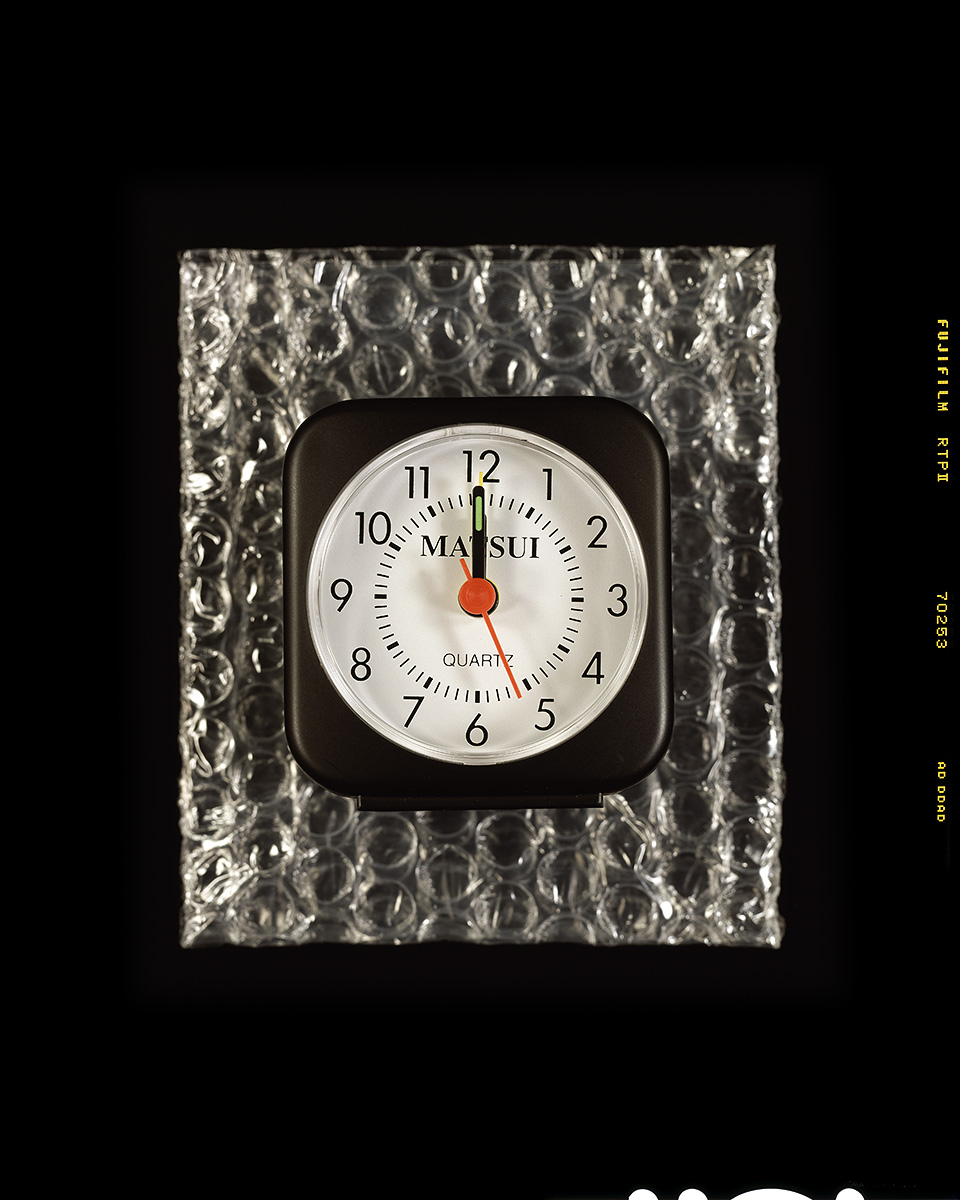 Matsui Alarm Clock, £ 2.99, Curry's, Origin: China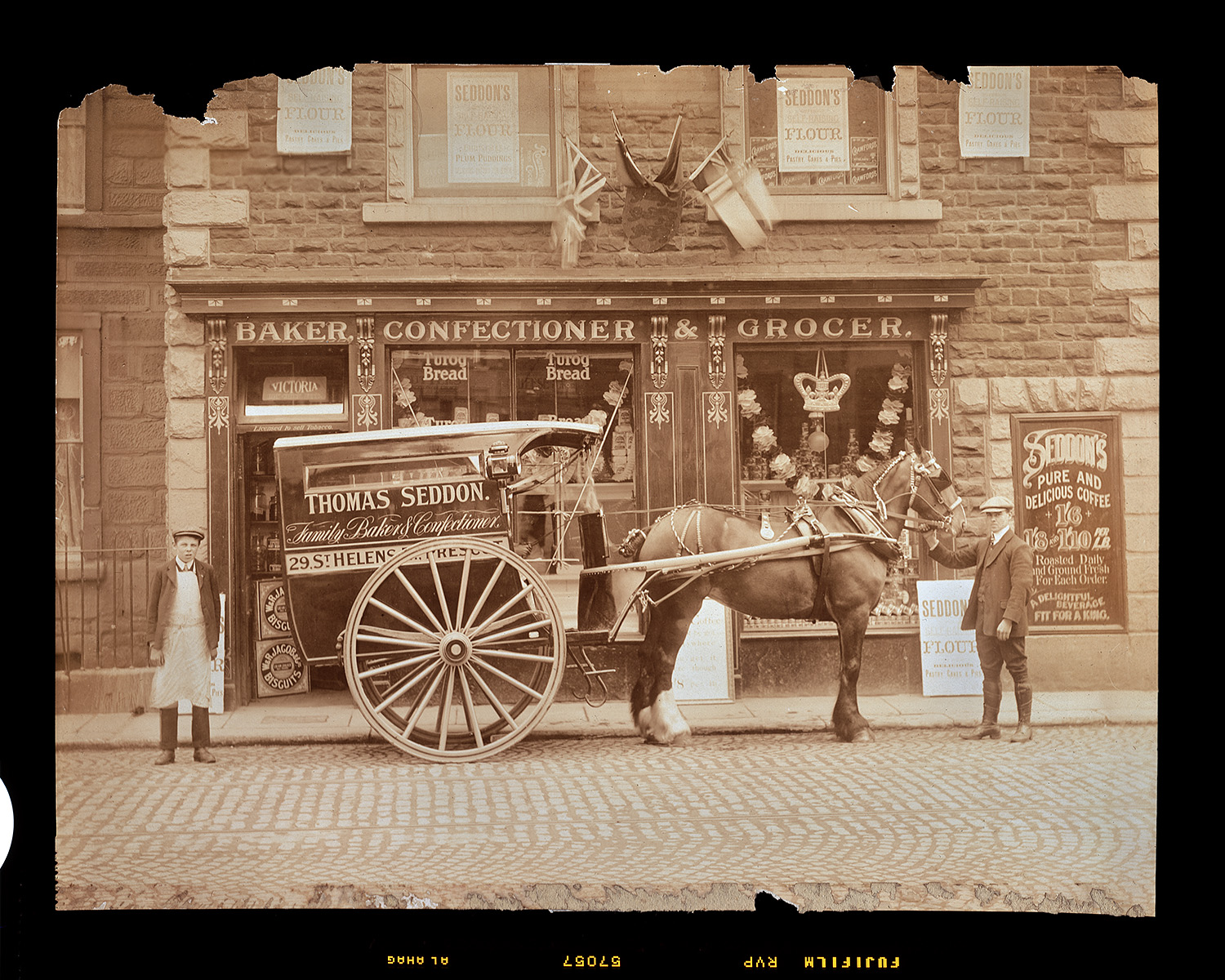 Thomas Seddon, Family Bakers and Confectioners, 29 St Helens Road.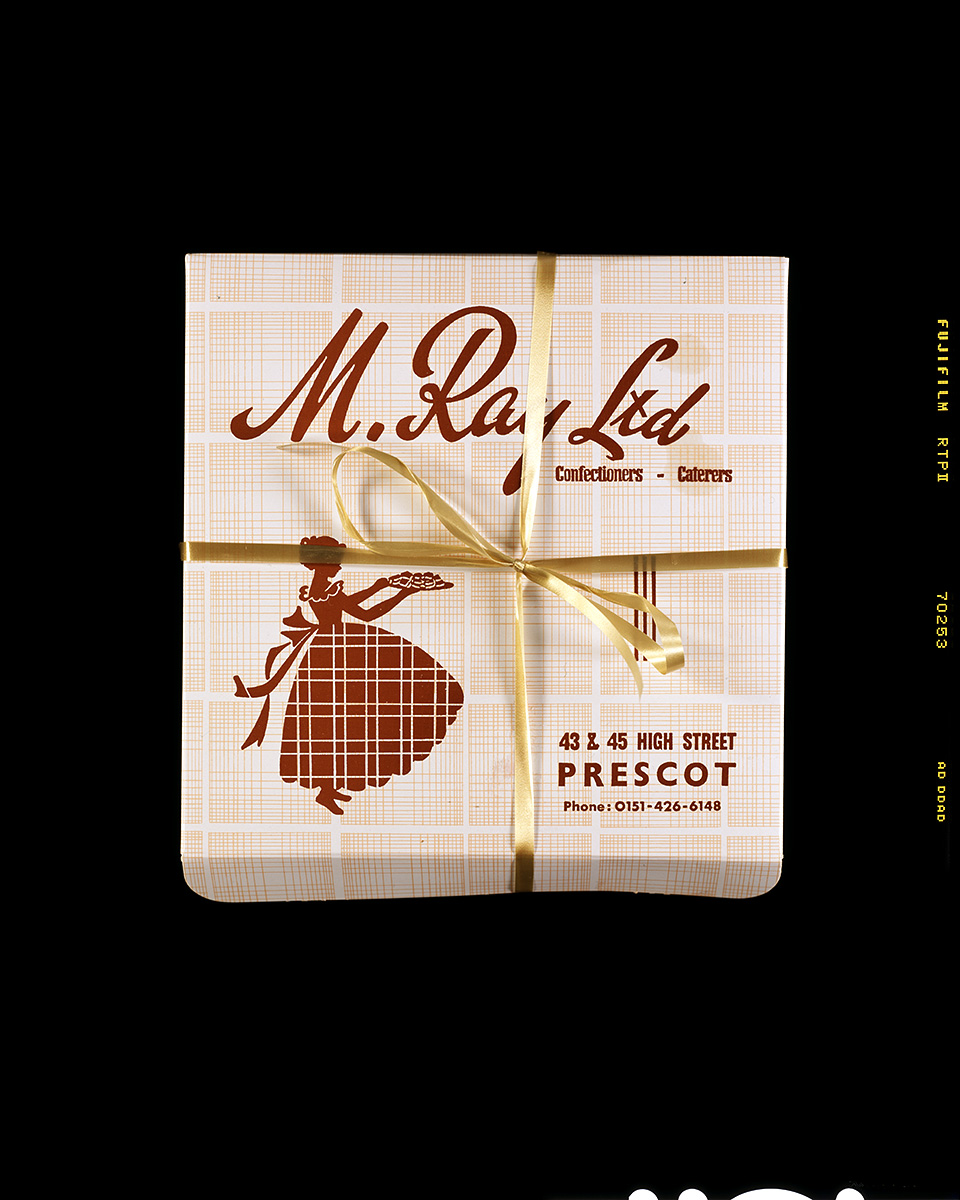 3 Fresh Cream Cakes, £ 1.43, M. Ray's Limited, Origin: Prescot, England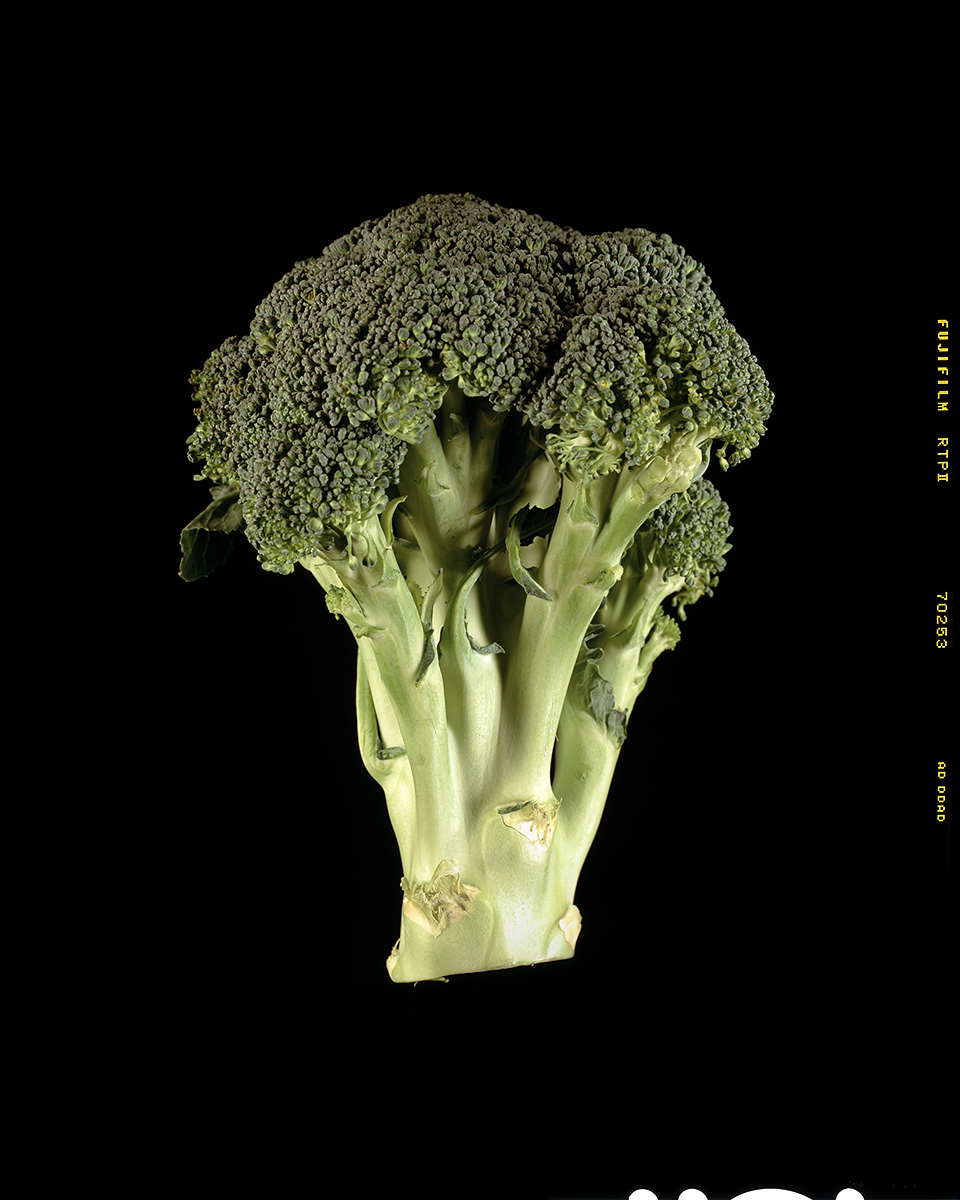 Broccoli, £ 0.46, The Fruit Bowl, Origin: U.K.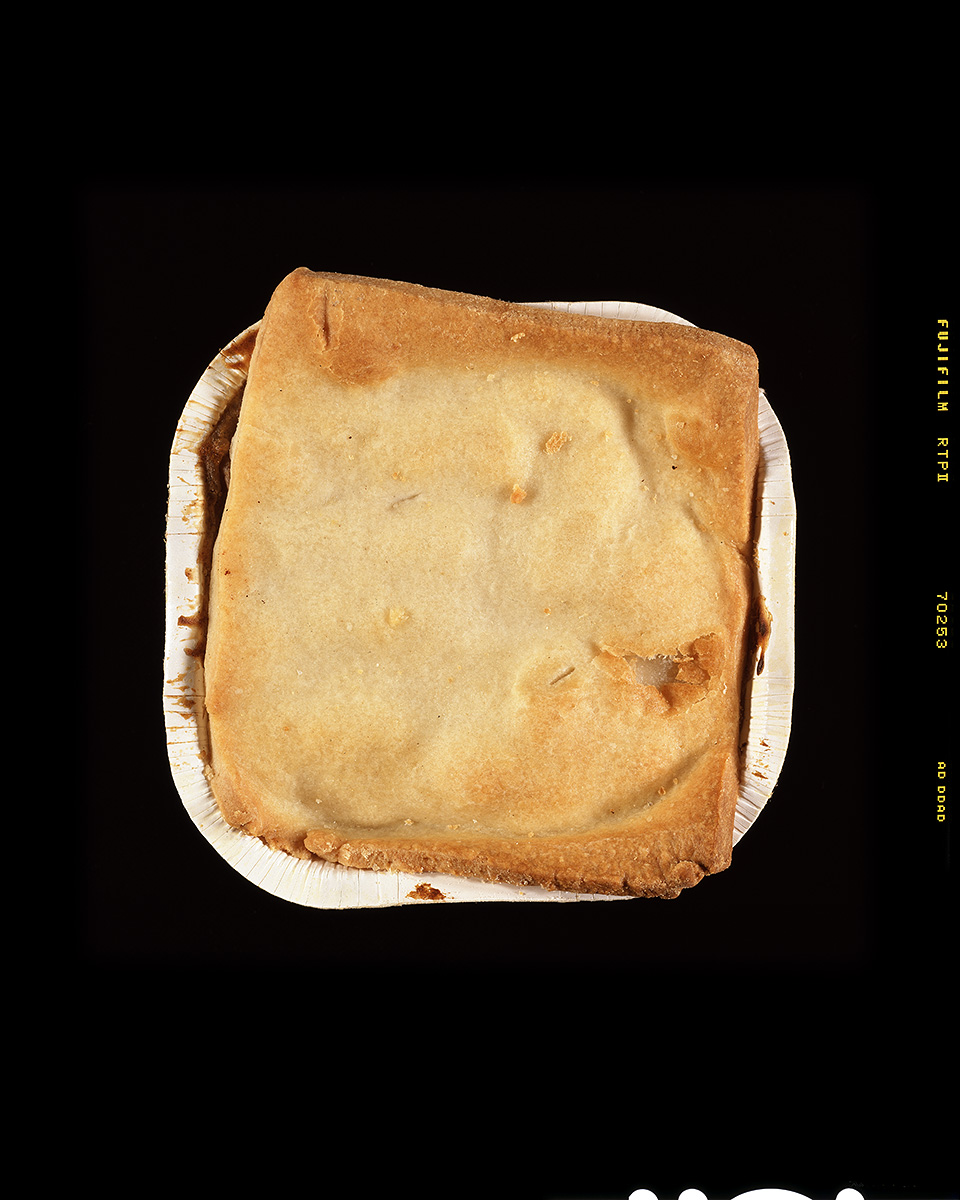 Hot Pot Pie, £ 0.68, The Chicken Barbecue and Snack Bar, Origin: Prescot, England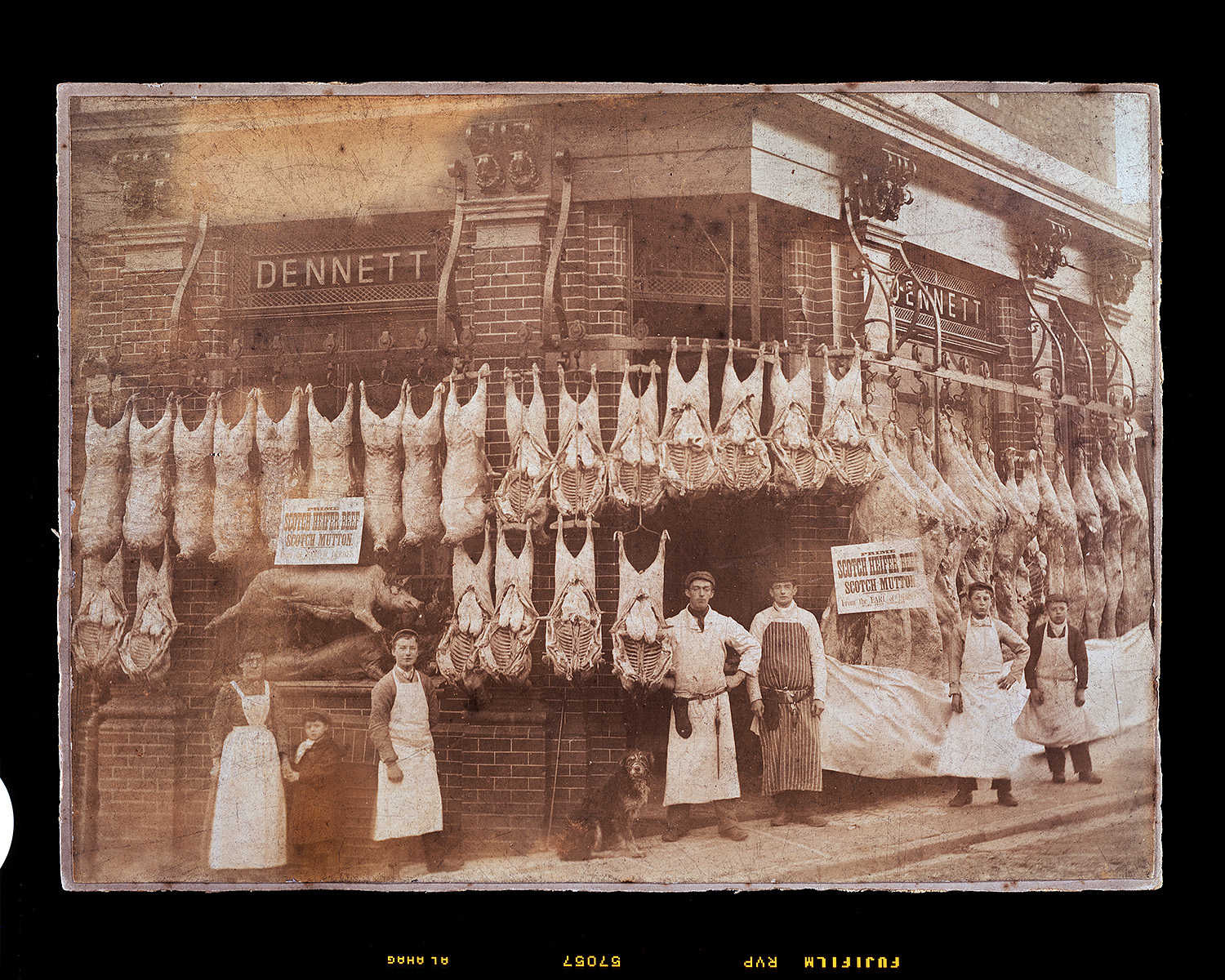 Thomas Dennett, Butcher, Corner of Market Place and Church Street.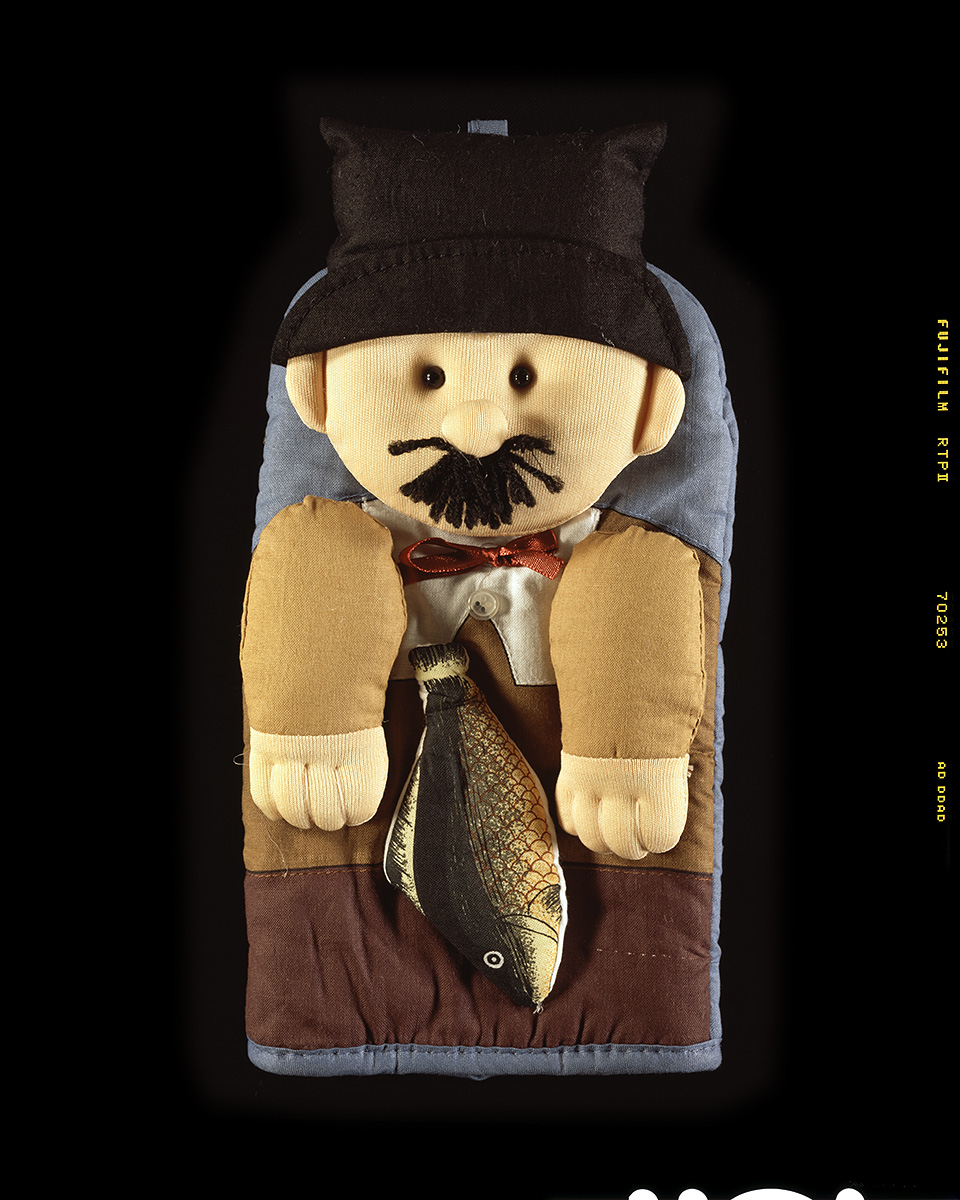 Oven Glove, £ 1.99, Textiles Direct, Origin: Unknown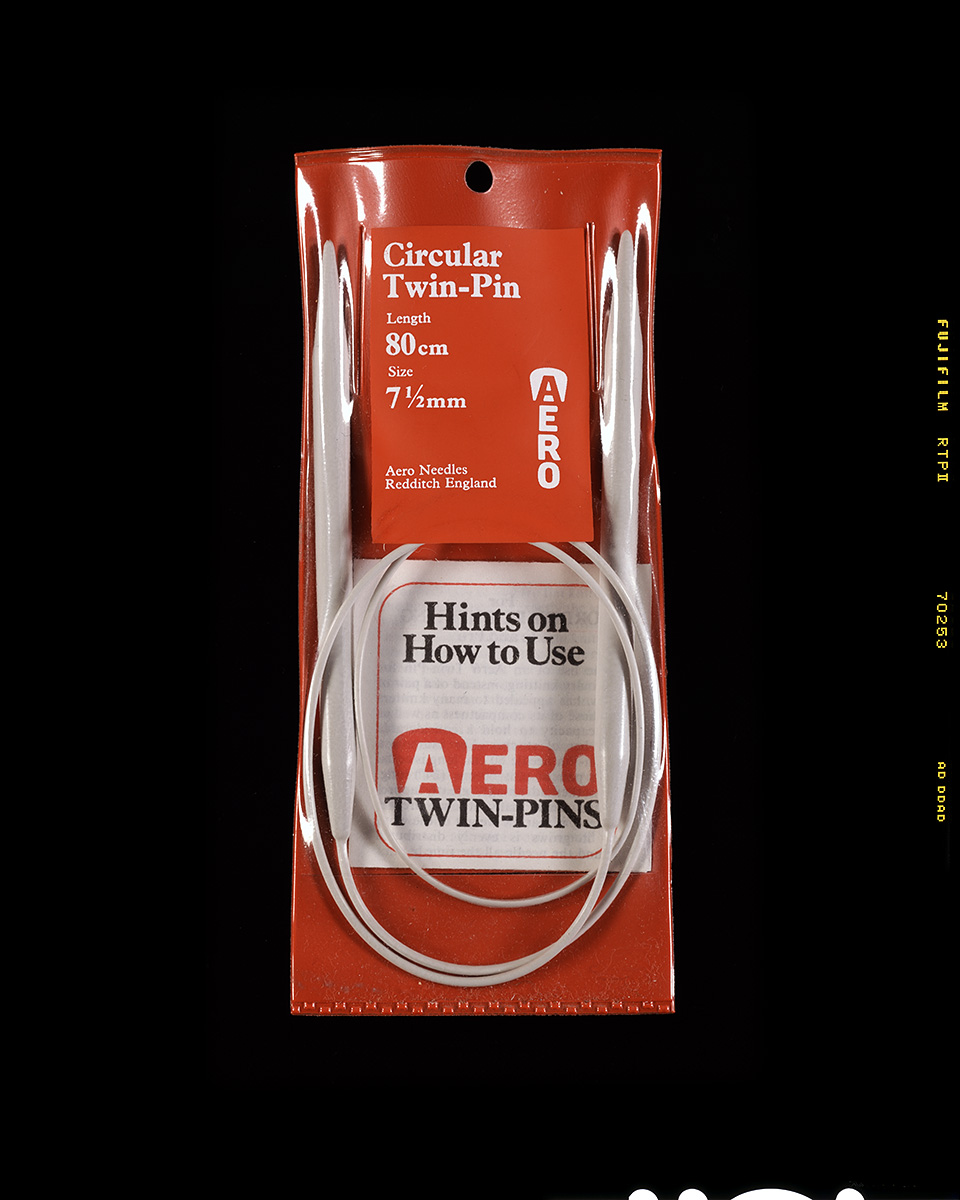 Circular Twin Pin (7.5mm), £ 2.60, The Wool Shop, Origin: Redditch, England

Meltonian Wren's Dubbin, £ 1.50, P.J. Taylor Cordwainer & Bespoke Shoemaker, Slough, Origin: England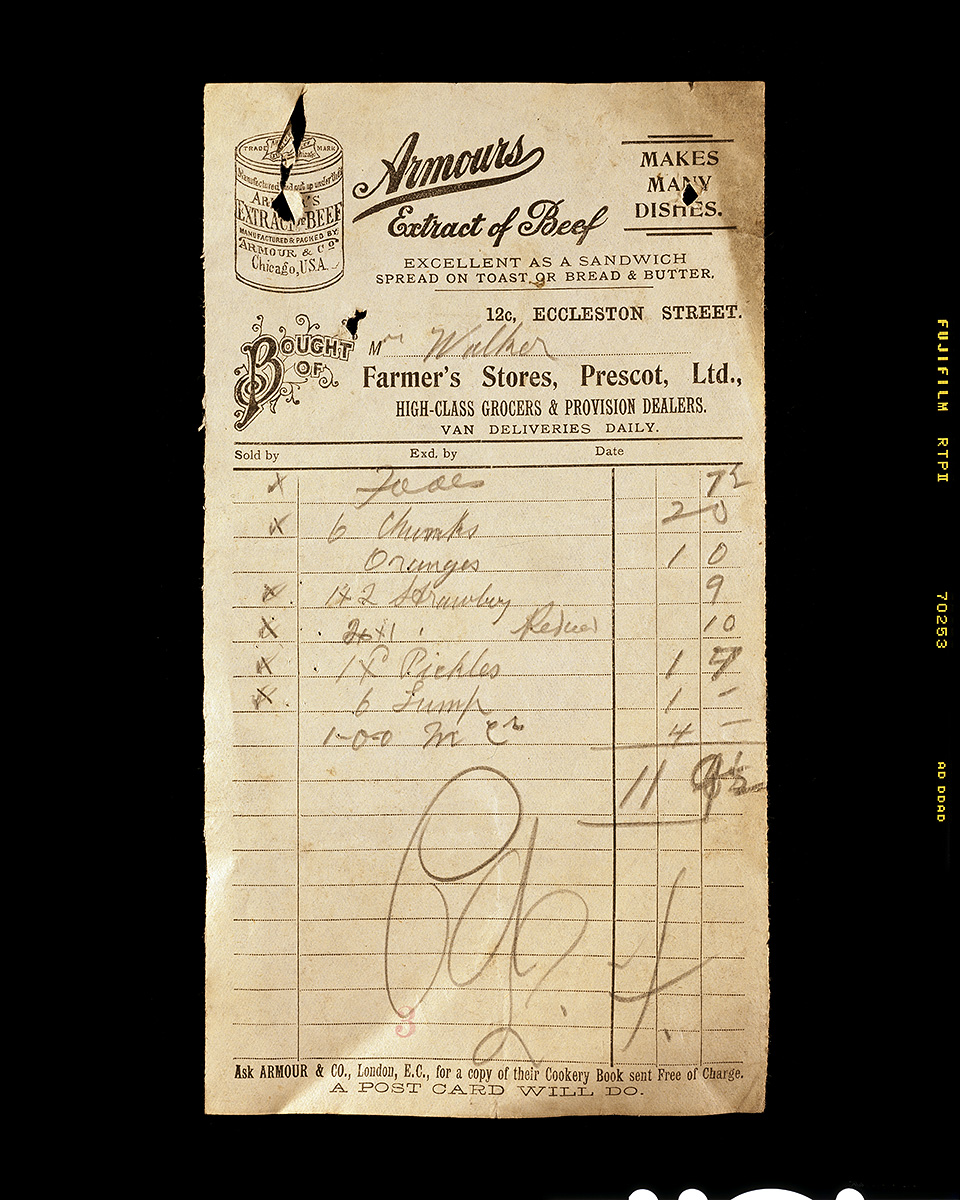 Undated Receipt, Farmer's Stores, Prescot, Ltd. 12c Eccleston Street.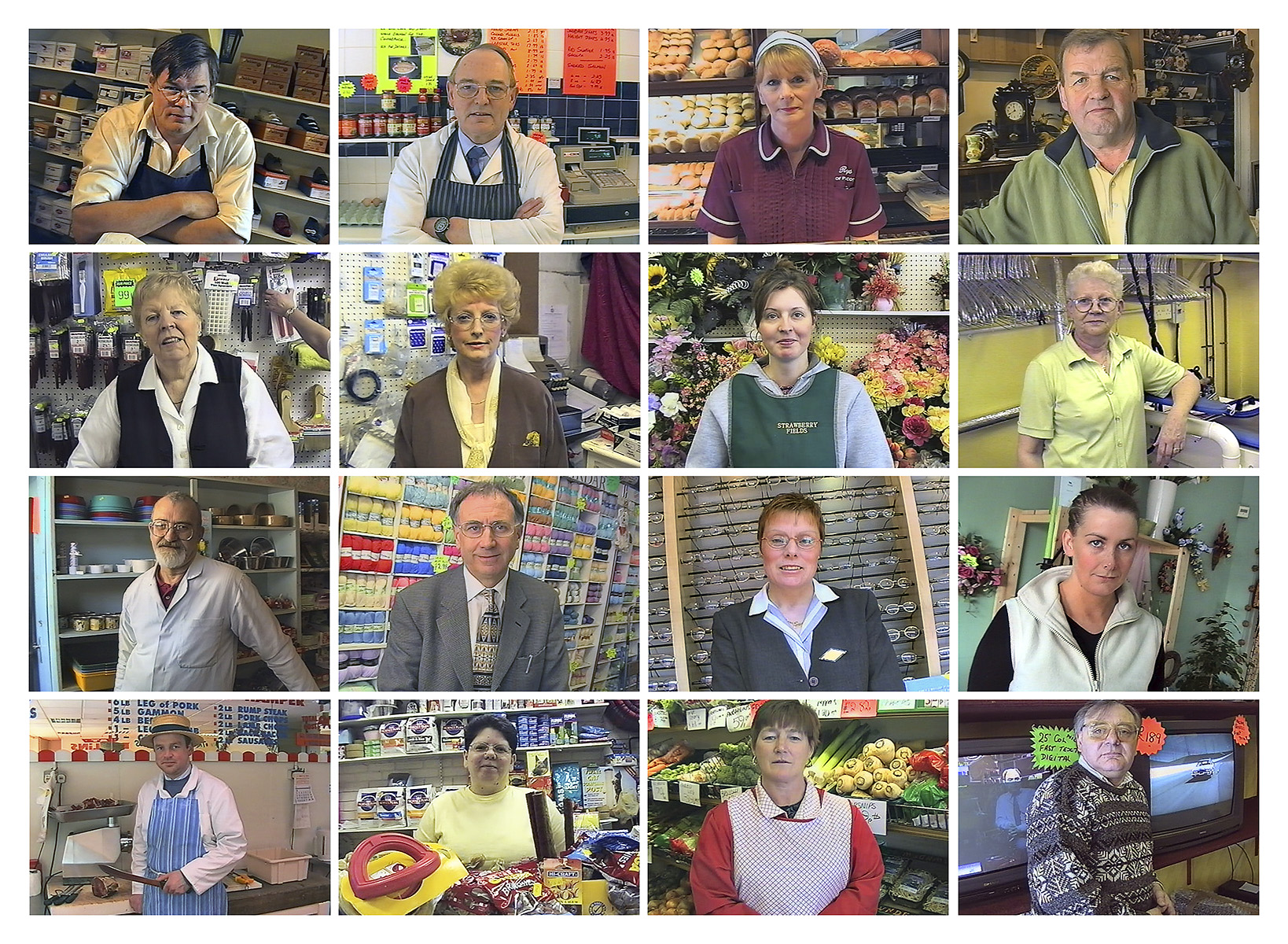 Prescot Shopkeepers, 2000.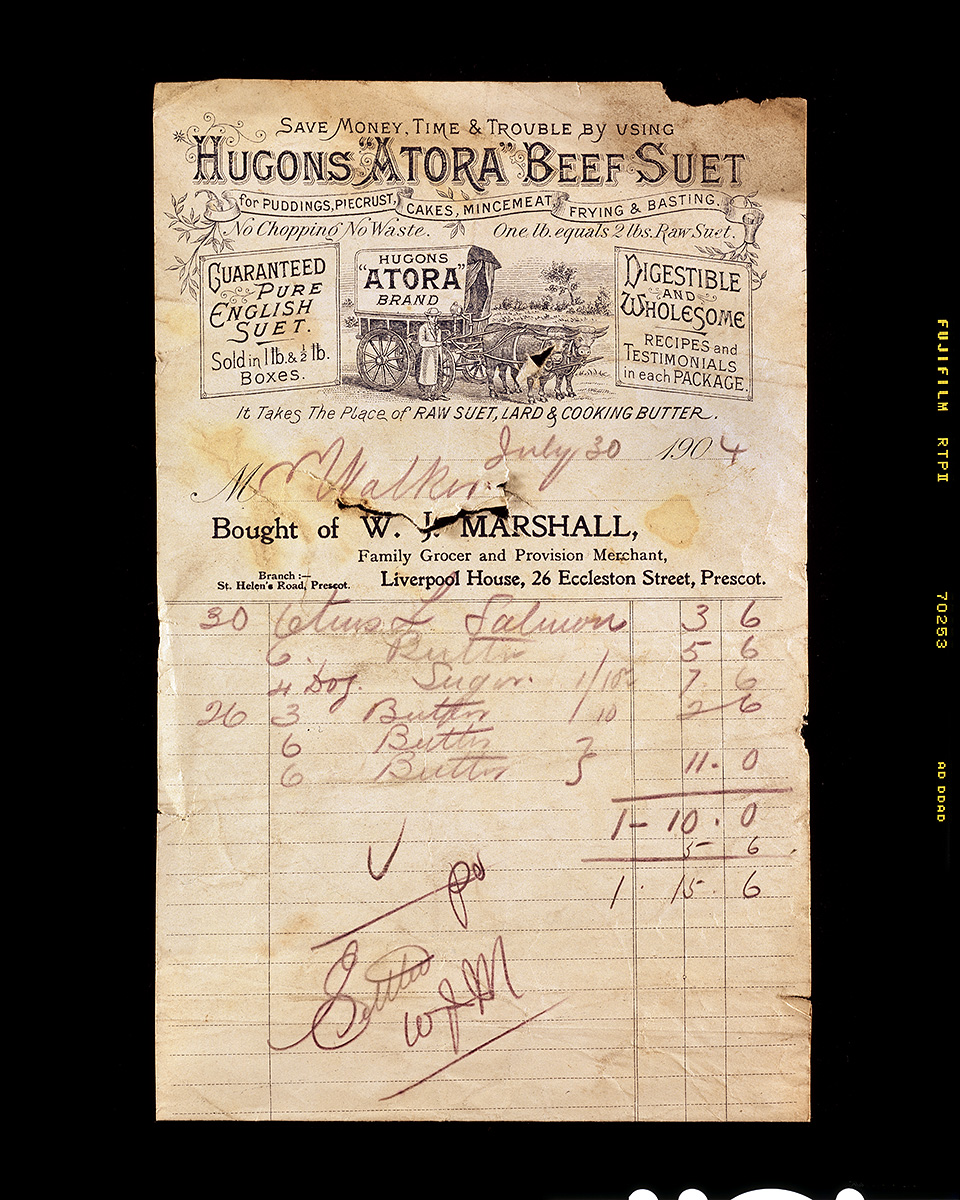 Receipt dated 30th July 1904, W.J. Marshall, Family Grocer & Provision Merchant, 26 Eccleston Street.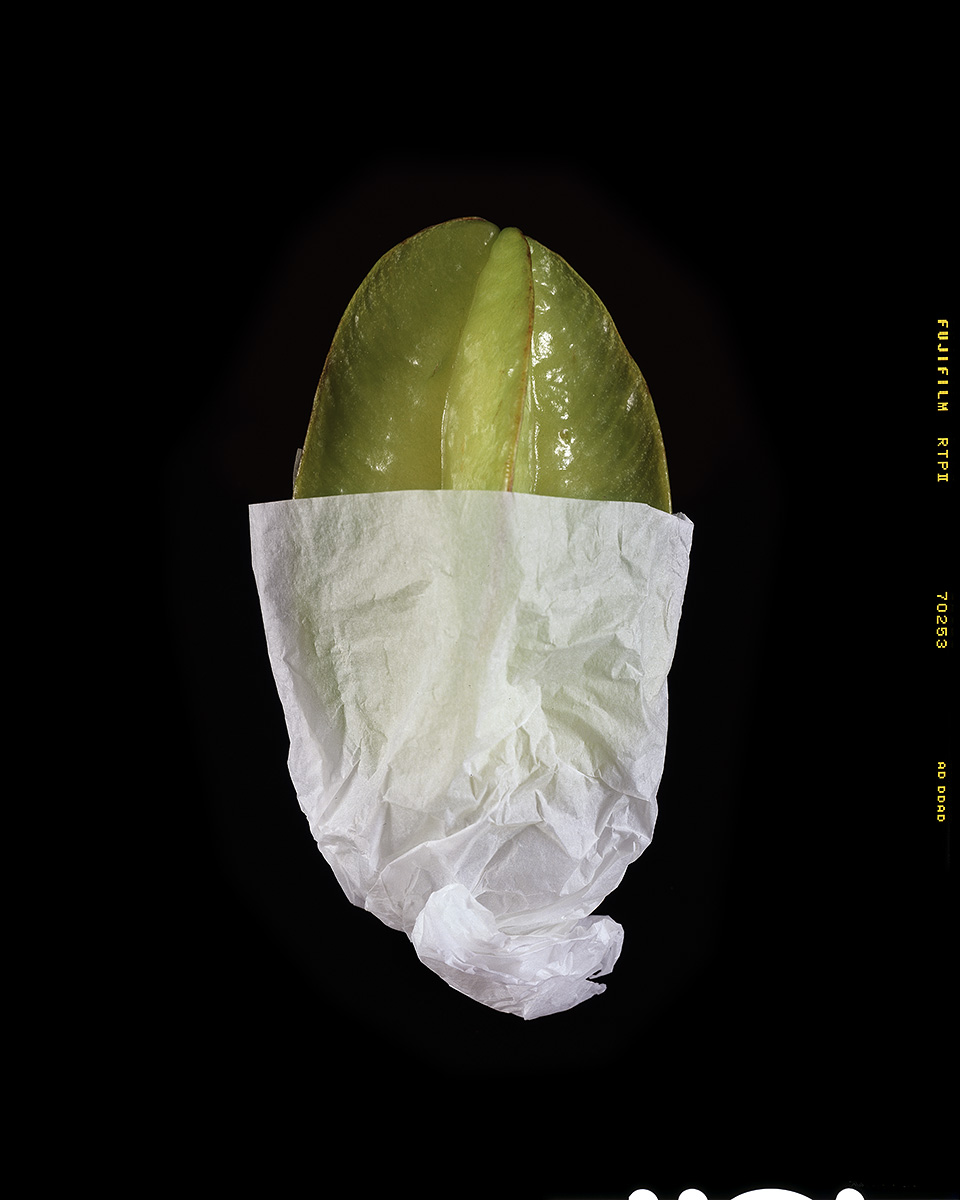 Star Fruit, £ 0.99, Strawberry Fields, Origin: Unknown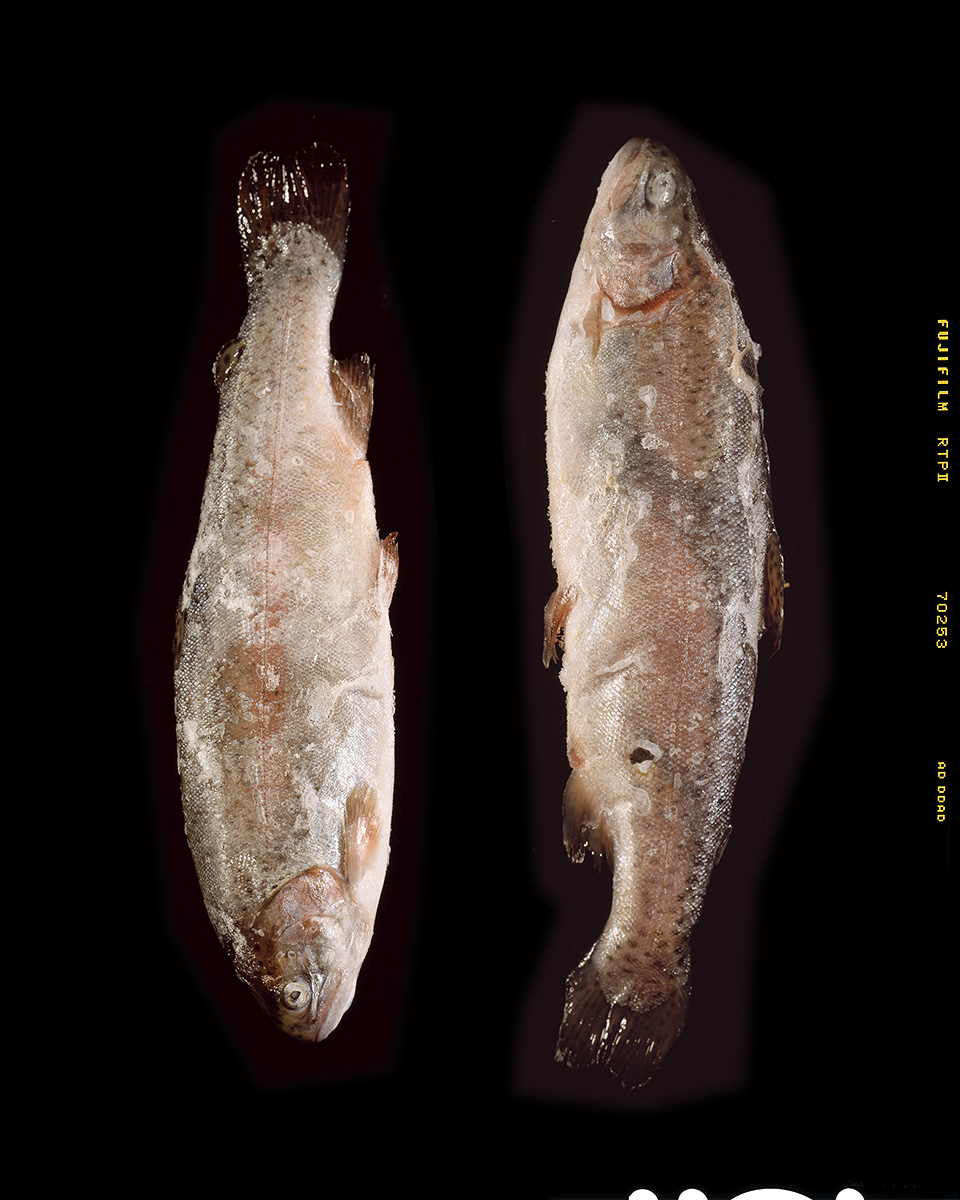 Trout, £ 2.69, Prescot Fish and Seafood, Origin: U.K.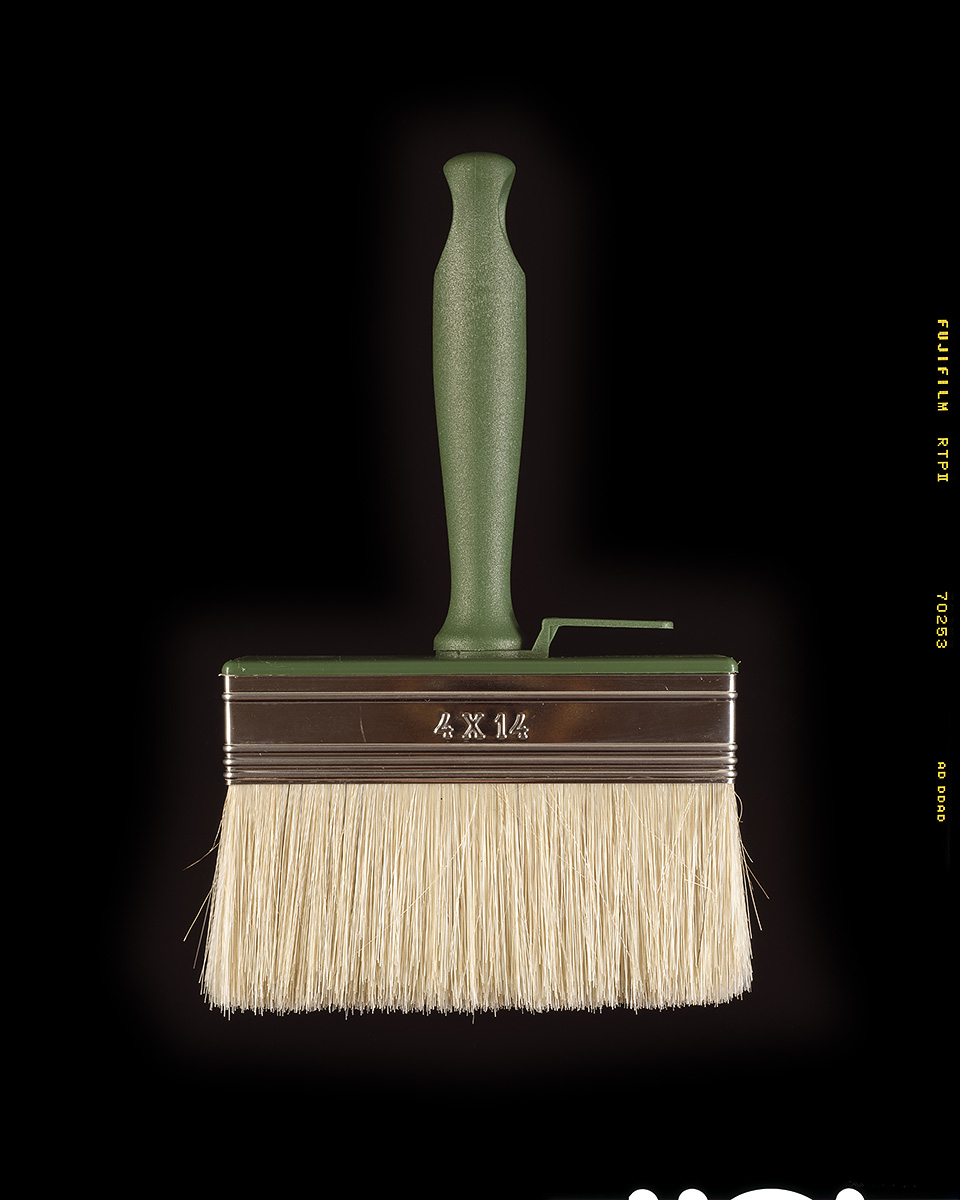 4x14cm Paint Brush, £ 2.49, Classic Colour Centre, Origin Unknown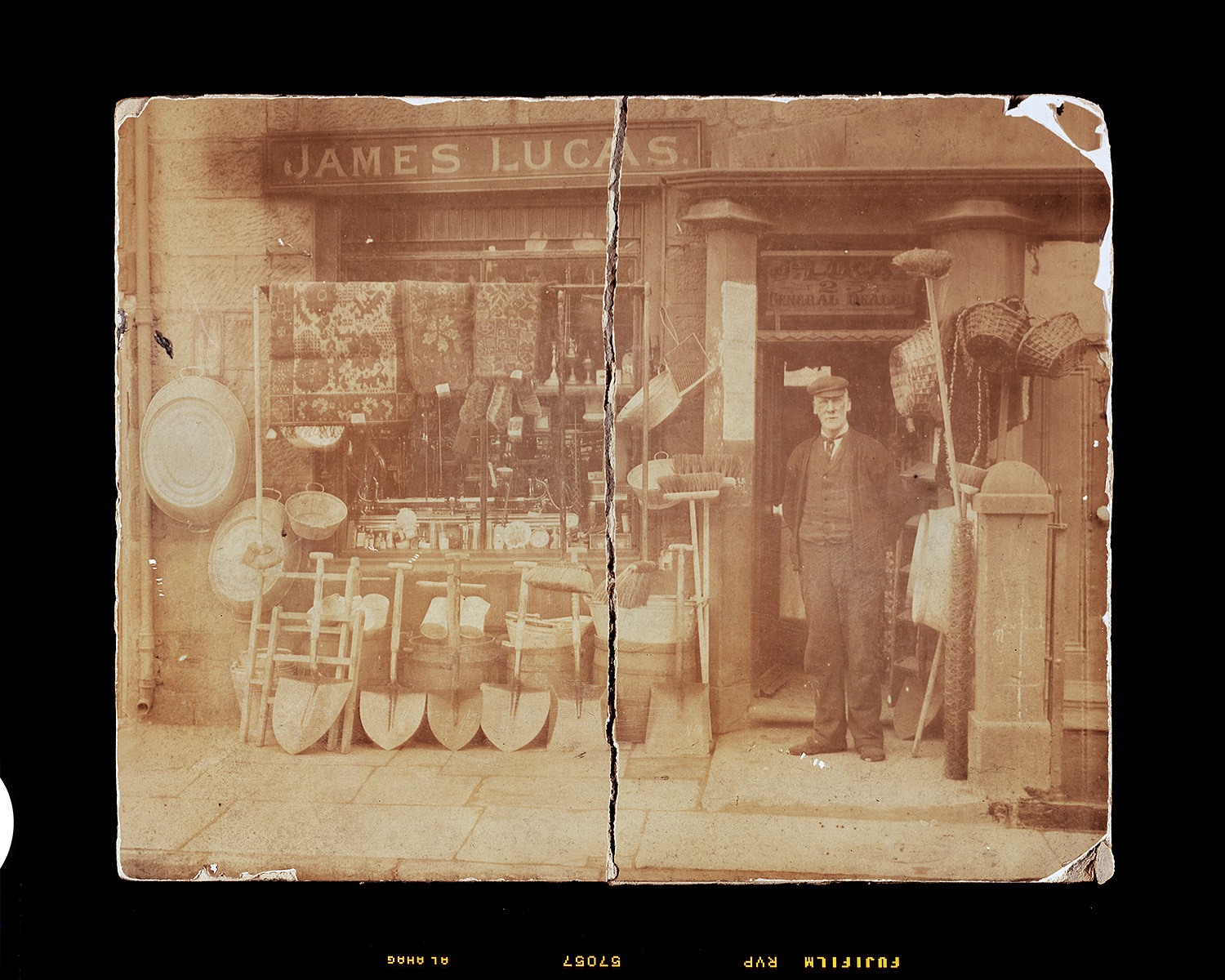 James Lucas, Ironmonger and General Dealer, 25 St Helens Road.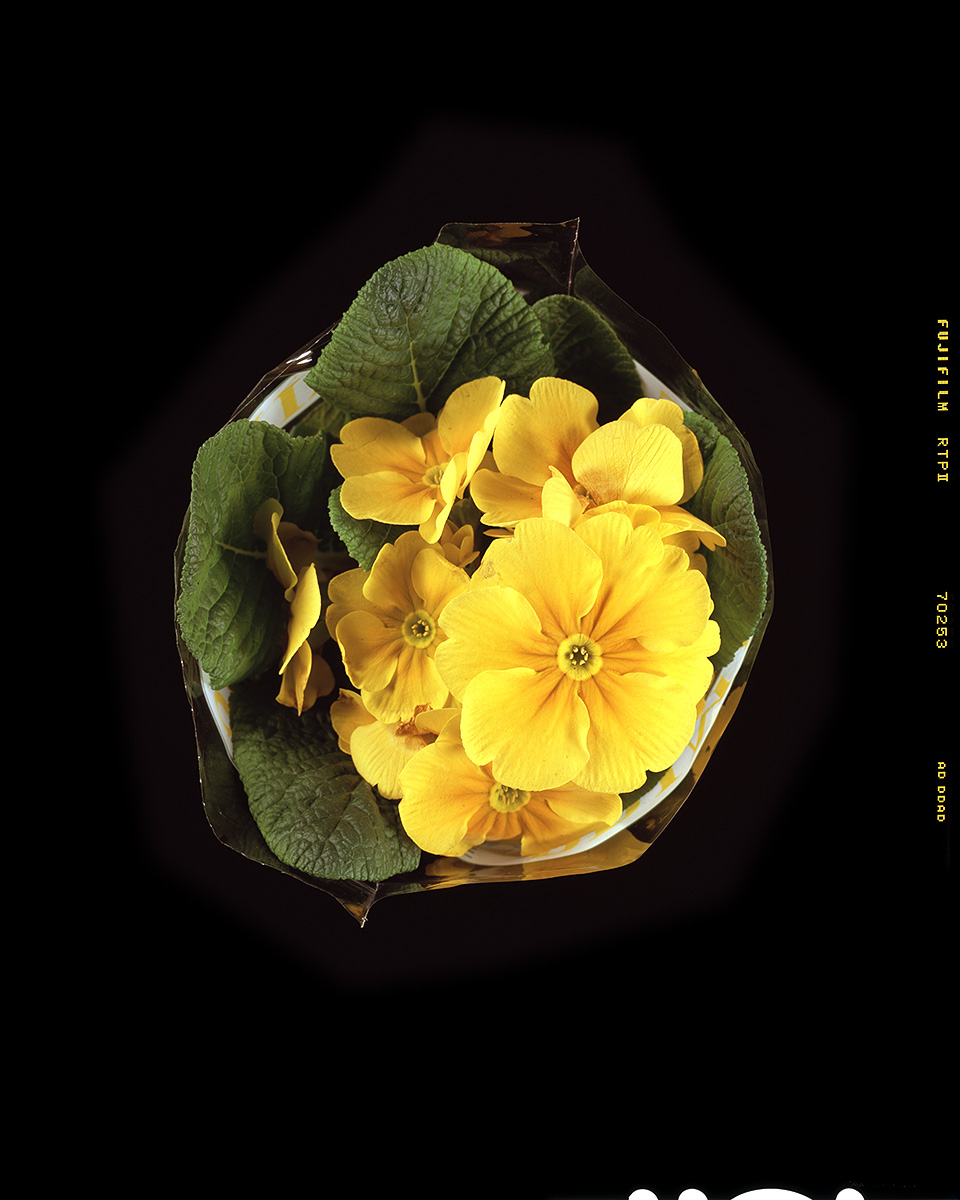 Potted Primula, £ 1.20, Floral Designs, Origin: England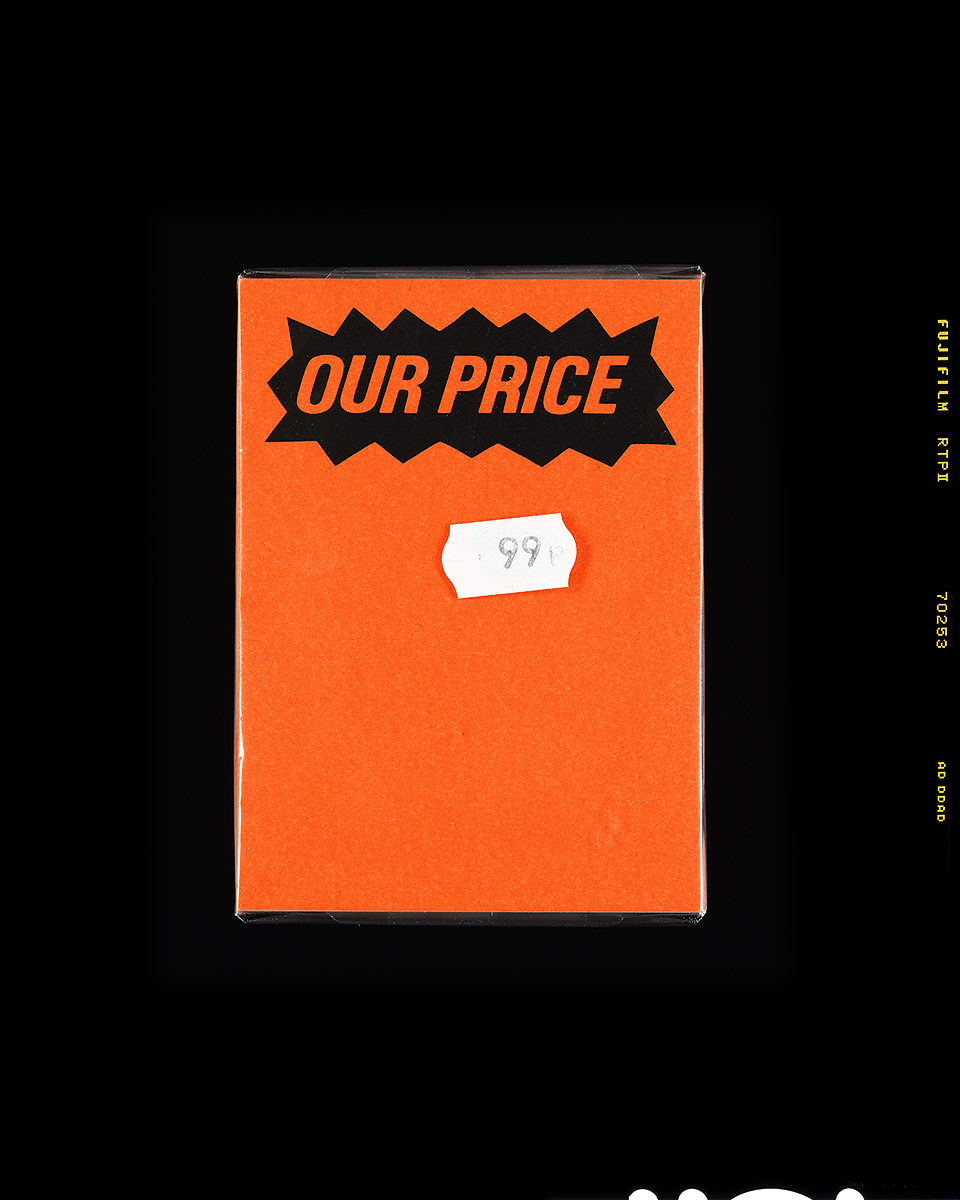 'Our Price' Labels, £ 0.99, Papercuts, Origin: Unknown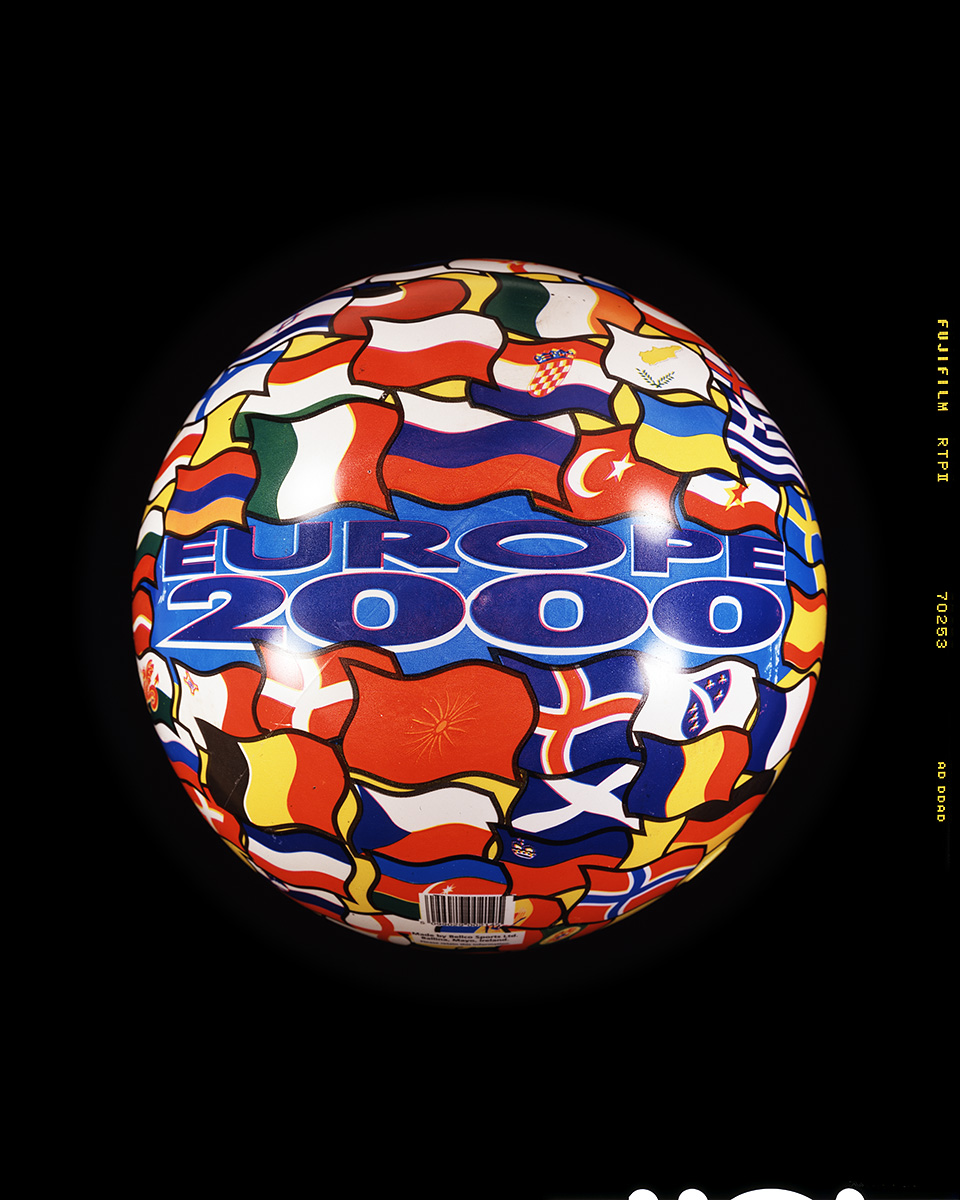 Euro 2000 Football, £ 1.49, Home and Health, Origin: Ballina, Mayo, Ireland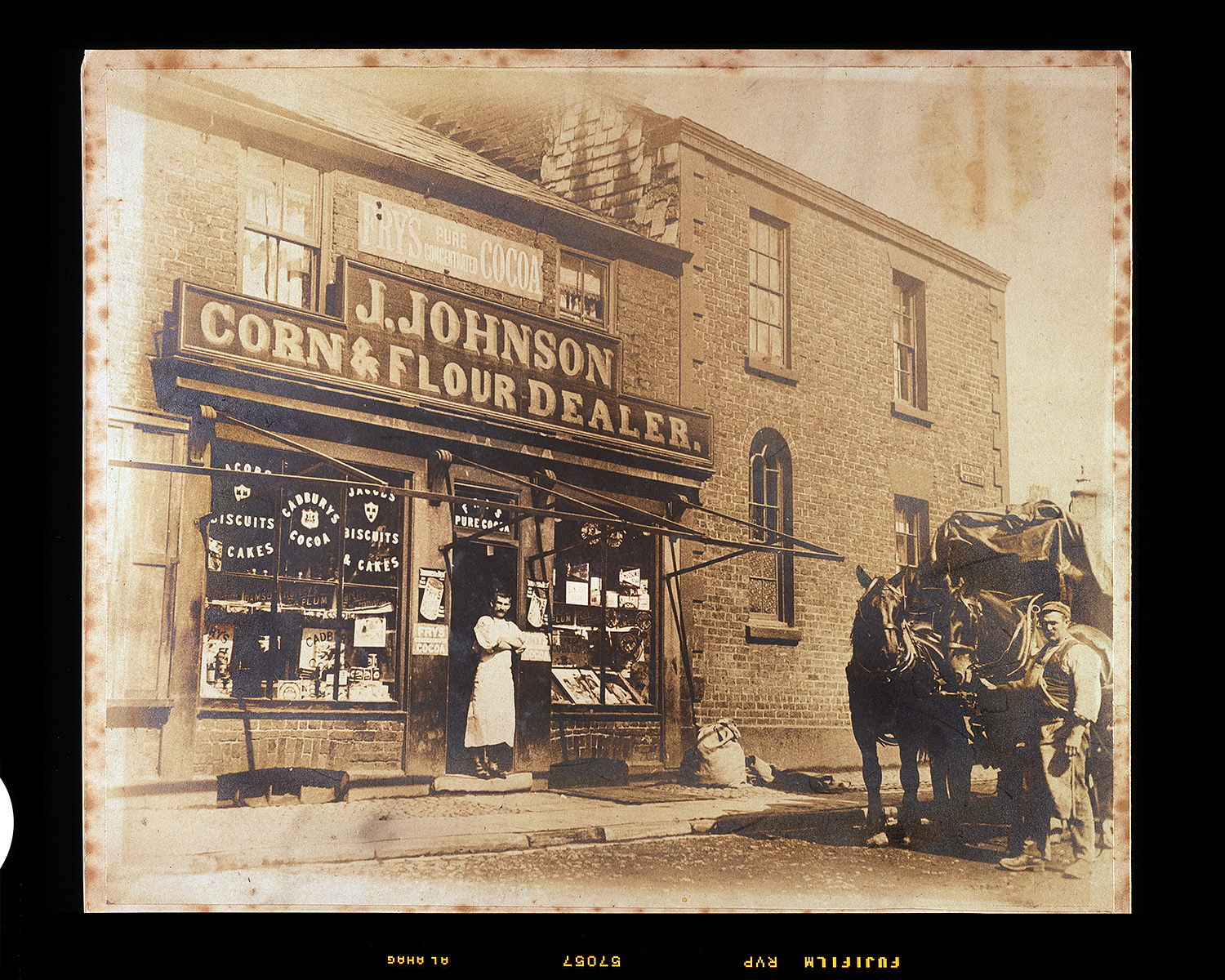 J. Johnson, Corn and Flour Dealer.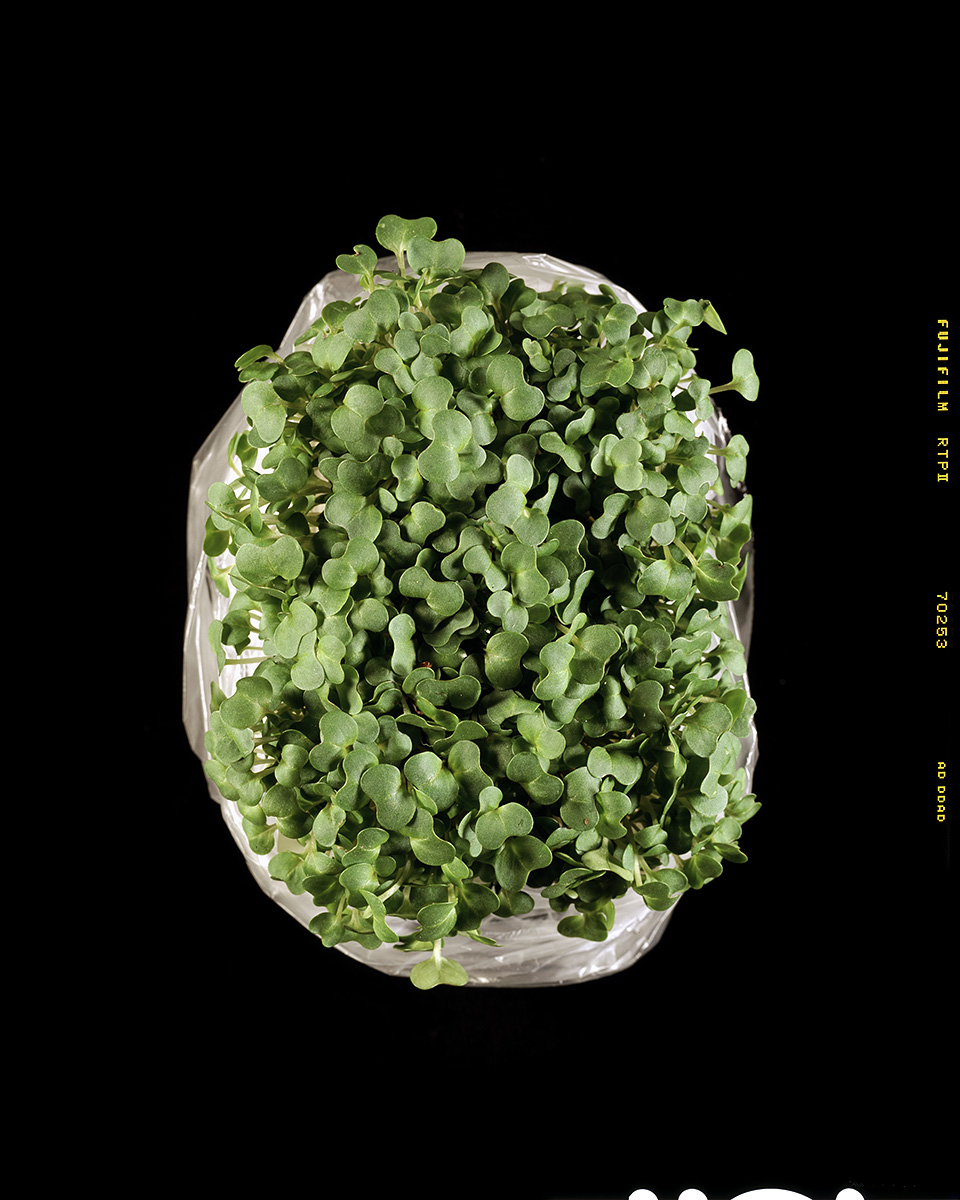 Salad Cress, £ 0.16, Self Pick Fruit & Veg, Origin: England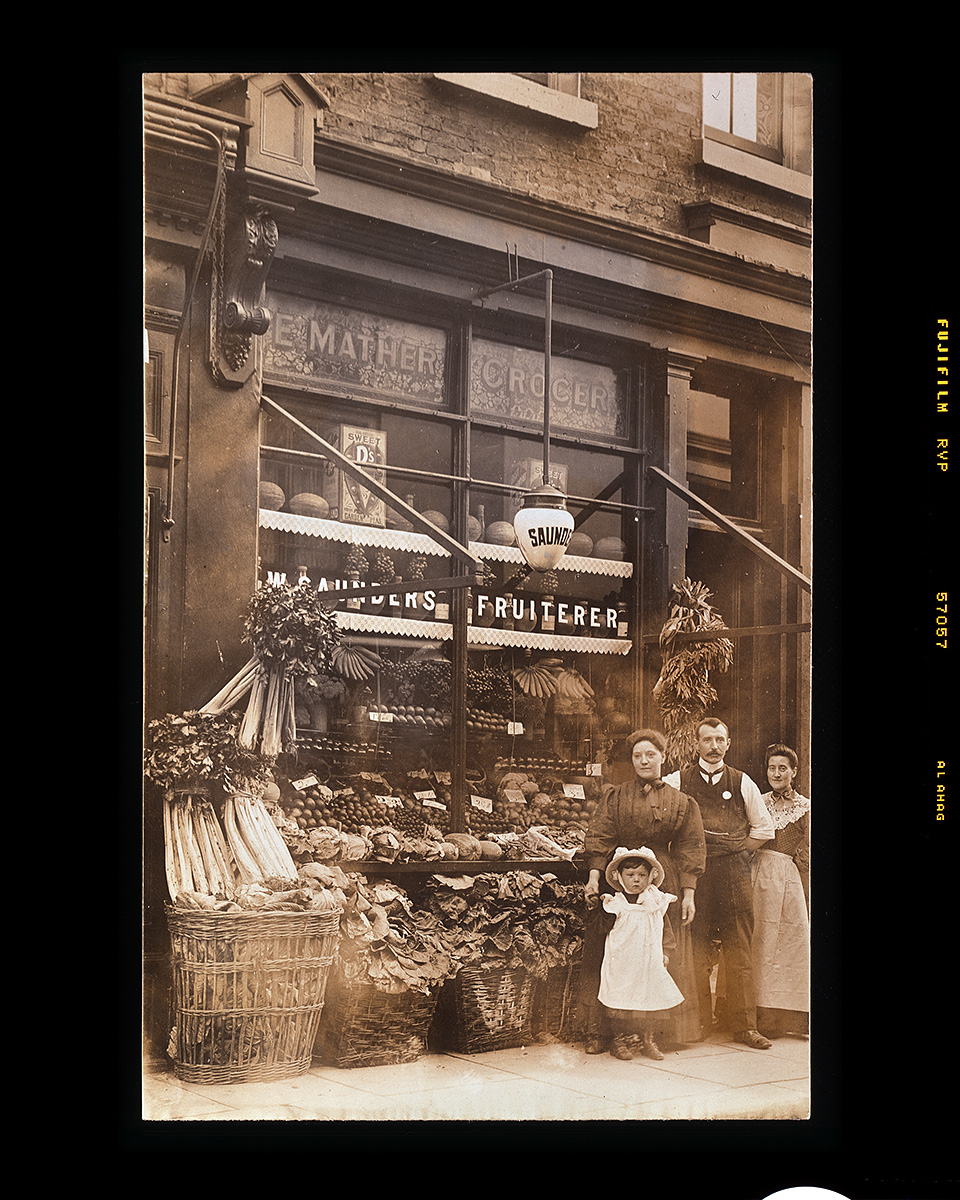 William. Saunders, Fruiterer, 21 Eccleston Street.