Living Through Change
In 2007 I was commissioned by the Joseph Rowntree Foundation (JRF) to engage people in six relatively deprived neighbourhoods across Britain in participatory arts activity in order to understand the experiences and perceptions of people in low income households.
The commission accompanied a JRF funded, three year academic study entitled 'Living Through Change in Challenging Neighbourhoods' undertaken by the Centre for Regional and Economic Social Research (CRESR) at Sheffield Hallam University.

Participatory activities included photographic projects, audio recordings and film-making. The resulting material was shown within the communities concerned and presented alongside the formal research in a range of contexts a number of which are detailed to the right.
A selection of FILMS from four of the six areas can be viewed HERE
For further information on the JRF project visit the CRESR project website HERE. To access a selection of the published papers visit HERE and for further details on the role of participatory media arts visit HERE.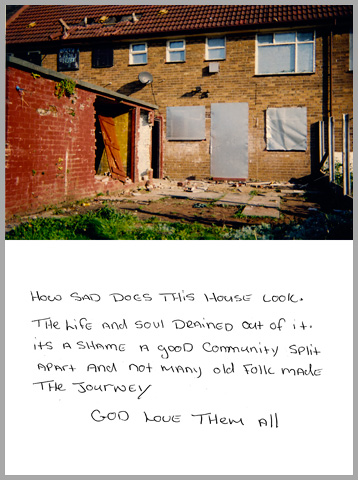 Photograph by Hillywood resident
'Communities Under Pressure'
Exhibition and Policy Seminar
An exhibition of 'Living Through Change' project artwork held at New London Architecture, The Building Centre, London. 16th June - 15th July 2011
Click HERE for further details and related links.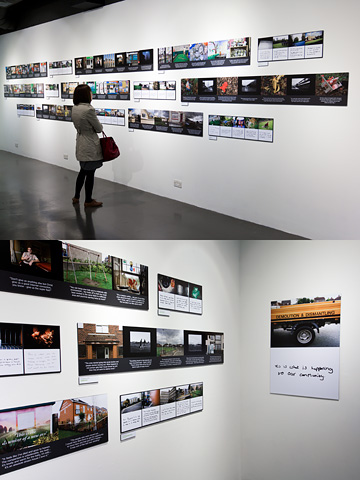 Exhibition installation
'Giving voice and taking pictures'
Journal Article
My experience on the 'Living Through Change' project provided a case study for a paper I wrote for the journal 'People, Povery and Place Online' entitled 'Giving Voice, Taking Pictures: participatory documentary and visual research' (PPP Online, Volume 5, Issue 3, 2011).
The full text of the paper can be found HERE.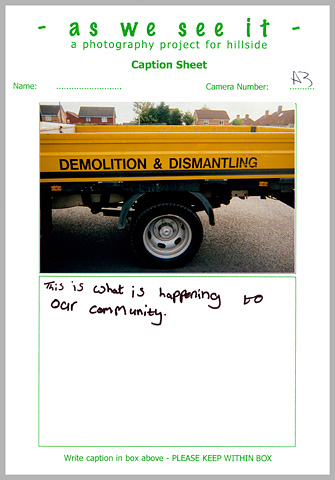 Caption sheet from Hillside project.